Site Skin Ad dimensions, specifications, and requirements
Desktop:
1x Density - 450 x 775 pixels (2 Files)
2x Density - 900 x 1550 pixels (2 Files)
.jpg, .gif, HTML5, and a variety of rich media vendors and formats
1 MB Max Each
Our site skins are different from most background ads and are clickable. The size for each unit is 450 x 775, but all important content must be contained within the inner 130 pixels (smaller screens will cut off the outside margins). Our site skin design photoshop template can be downloaded below.
PAID UP-CHARGE - Mobile (MPU):
Adding the Mobile Pinned Ad Unit (MPU) to your campaign? See here for dimensions and specs.
download our desktop site skin template
How to Use Our Desktop Template
This template makes building Racer X Online site skins as simple as possible. Instructions are also contained on the .psd template.
Place your background images in the "Background Images" folder. You can place color, texture, or images here.
Select one background color from the "Background Color" folder (options #1-5).
Select the same color option you chose for the background in Step #2 from the "Background Fade" folder (options #1-5). This will make your image appear to fade into the background. Do not alter this mask. You will notice the correct look of this fade on the next page (SCREEN SIZE: 1900 X 800 image).
Place your foreground text and other content in the "Foreground" folder. Content in this folder must not enter the area between the center guides (indicated with arrows above). Do not alter the folder mask. Do not extend any foreground images in this folder beyond the bottom or sides of this document. You may extend foreground images beyond the top. NOTE: Please make sure all important text is contained within the inner 130 pixels of each side. (You will notice guides to help with this.)
Do not hide, remove, or alter the "Site / Shadows" folder.
Hide the "Hide this before saving" folder.
Please optimize the files as much as possible prior to saving. Use the "Save for Web and Devices" function under the file menu to save. We have already set up the files to ensure you create the correctly sized site-skin files. Please save and send each side separately. Each Side should be 450x775.
2x Density

Images

2x Density images are very important to include in any web ad campaign ad to ensure your ad creative looks crisp and clear on the end-users display. If you do not include 2x density ads, they will appear blurry and unclear on high-resolution retina display screens.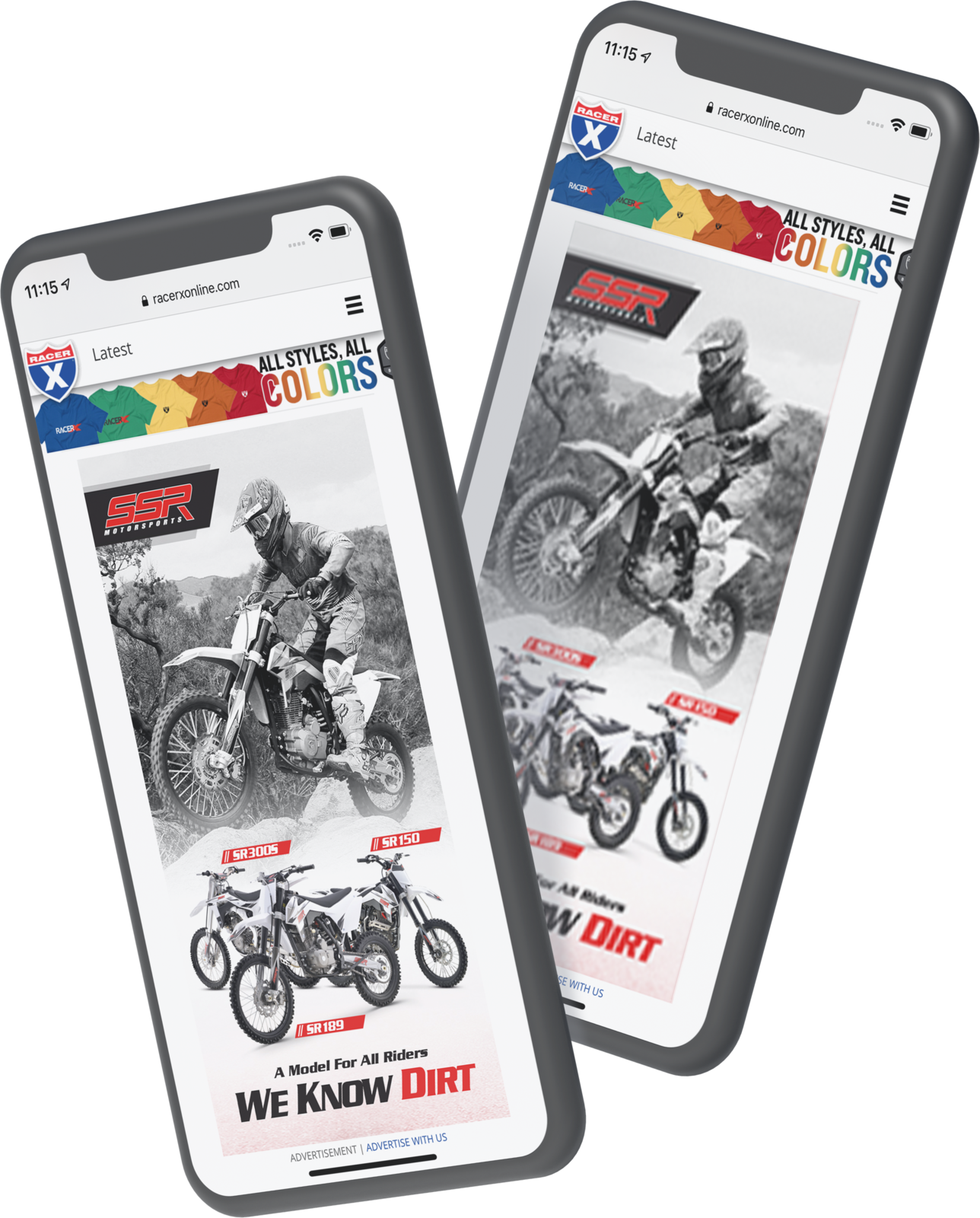 Disclaimer
Racer X reserves the right to edit or change copy submitted as we see fit to ensure maximum engagement through racerxonline.com, Racer X social media, and Racer X email newsletter. Racer X also reserves the right to adjust campaign run-times and scheduled dates as we see fit to accommodate editorial and advertising needs. Racer X reserves the right to refuse to post any submitted ad material that we deem sensitive or controversial that would otherwise damage Racer X's reputation.